Non-fiction
Edited By
Dragonwriter: A Tribute to Anne McCaffrey and Pern
This is a brilliant and brilliantly produced tribute to Mum. It includes color illustrations from Michael Whelan and an amazing host of contributors from the width and breadth of Mum's life.
Written By

Dragonholder: The Life and Dreams (so Far) of Anne McCaffrey
, originally published Del Rey, 1999; Published Foxxe Frey (Fyre) Books, October 2011
This is not a part of the Pern universe but rather a scrapbook about Anne McCaffrey (with pictures) available both as eBook for Kindle and Nook, Kobo as well as in trade paperback.

Anthologies
The One Tree of Luna
Seven short stories of science fiction, science fantasy, fantasy and fable by the New York Times bestselling author with an illustration for each story.

Tree: When Jimmy's father dies, he promises to watch out for his mother but late at night begs for someone to watch over him, and in the morning gets a fantastic surprise.
The One Tree of Luna: Jenny is a Loony – a child born on the Moon – but she has big plans. Plans that never considered that someone might want to harm her special tree.
Tribute: Amanda Brown, world-famous astronaut, would never tell her daughter, Annogi, the identity of her real father. And now, years after Amanda's death, Annogi has hacked the station's security systems to find out so that she can live with him. Only she didn't expect an intruder – with an axe.
Why I Shot My Car: What happens when a talking car demands attention? And there's a talking gun, too?
Dasher: Maggie Trudeaux was part of the fledgeling space navy and she wanted combat duty. She didn't think for a moment that she'd get it.
Men! A pleasure night in Paris ends with a surprise.
Stone the Crows: Nerius Stimpton Poddlemore bore his name with all the grace that a youngster could manage.
Available for Kindle (Amazon.com), Nook (Barnes&Noble), Kobo, and in paperback.
NOTE
This is a new, revised version of the collection published as Six with one additional story and an illustration for each of the seven stories.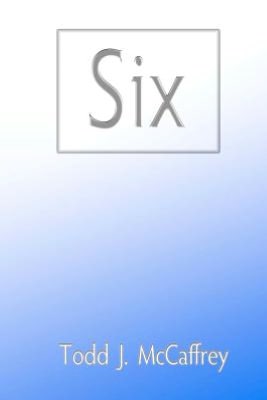 Six
, by Todd McCaffrey, 2012
Table of Contents:

Tree
Tribute
The One Tree of Luna
Why I Shot My Car
Men!
Stone the Crows

A collection of six short stories available both as eBook for Kindle, Nook, and Kobo, as well as in trade paperback.
Fiction
Dragonriders of Pern ®
In publication order:
Note:
Clicking on the title or cover will take you to the Del Rey
website where you can learn more and order from your favorite bookseller.
Dragon's Kin with Anne McCaffrey, del Rey 2003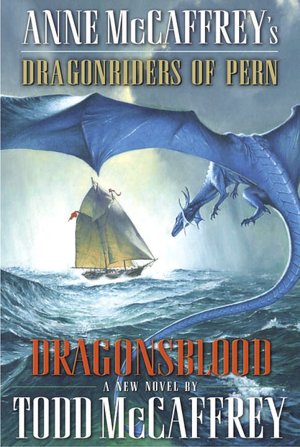 Dragonsblood, del Rey 2005

Dragon's Fire with Anne McCaffrey, del Rey 2007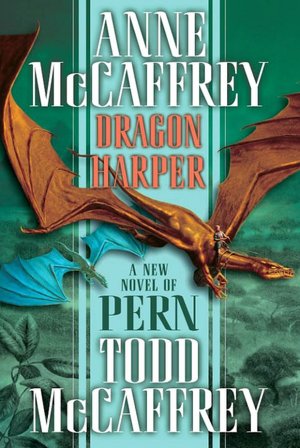 Dragon Harper with Anne McCaffrey, del Rey 2008

Dragonheart, del Rey 2009

Dragongirl, Del Rey, 2010

Dragon's Time, with Anne McCaffrey, Del Rey, 2011

Sky Dragons, with Anne McCaffrey, Del Rey, 2012
Science-thriller
A long time ago I described this novel to my mother. Her response was: "If you don't write it I will!"
She read it in manuscript before she died and told me, "I think you've got a blockbuster here!"
What's it about?

Sometime in the near future, maybe just tomorrow, there may come a totally new form of life on this planet. An artificial intelligence, or AI.
What will it want?
How will it perceive us?
One thing's for sure – the world will never be the same again.
This is the story of the
City of Angels.
I've updated and revised this second edition of City of Angels (along with a cool cover).
It's more of a mainstream science-thriller than my traditional science fiction (or science fantasy).
Available in eBook format for Kindle, Nook, and Kobo. Also in paperback!
I hope you'll give it a look.

Short Stories
---
Written as Todd Johnson
As Todd Johnson, I've had published many short stories, a novel-length "Choose Your Own Adventure" type book, an animated screenplay and have designed or consulted on the design of several board games.
Here is the list of my works published as Todd Johnson:
Animated Screenplay
"I got them Ol' Reptilon Blues Again Mommasaur", Dinosaucers, DIC, 1987

Short Stories – Novellas
The Archimedes Effect
, The War Years #1: The Far Stars War, ed. Bill Fawcett,
Penguin / Roc
, 1990
Dasher, The War Years #3: The Jupiter War, ed. Bill Fawcett, Penguin / Roc, 1991
Threadfighting Tactics on Pern, The Dragonlover's Guide to Pern, Jody Lynn Nye, Anne McCaffrey, illustrated by Todd C.Hamilton, Del Rey, 1992
Ploughshare, Bolos: Honor of the Regiment, ed. Bill Fawcett, Baen, 1993
Legacy, Bolos 2: The Unconquerable, ed. Bill Fawcett, Baen, 1994
Force of Nature, Bolos: Last Stand, ed. Bill Fawcett, Baen, 1997 (March)

Novel-Length Works
Slammers Down!, A Combat Command Book, Ace, 1988